Subnavigation
Facts
Name:
Monika
Birthday:
20.12.1984
Country:
Austria
Zodiac:
Sagittarius
Chinese Zodiac:
Rat
Occupation:
job processing in a labelling company
Hobbies:
webdesign, reading, Anime & Manga, meet friends, cinema..
Fav. smilie:
XD, O.o, -___-, :D
Fav. book:
Harry Potter, A long way down, The Da Vinci Code, Illuminati
Fav. band/singer:
Maroon 5, James Morrison, Gavin DeGraw, Lifehouse, Sister Hazel....
Fav. movie:
A walk to remember
Fav. food:
rice, noodles, sushi, strawberries, kiwis, carrots...
Fav. country:
England, Japan, Germany
Fav. manga:
Hanakimi, Tsubasa Reservoir Chronicle, Chobits, Fushigi Yuugi
Fav. anime:
Tsubasa Reservoir Chronicle, Fruits Basket, Gravitation, Haibane Renmei, DNAngel...
Moni about...
...herself:

well... actually describing oneself in always the biggest challenge... at least for me... I never really know what to write. It's so much easier to describe oneself in a few points, than in a whole text. That's probably because I'm not that good in writing.. I'm not that poetical or lettered than others may be but who cares.. at least I try ;).
I am working at a labelling company for over a year now. I would have never applied for this kind of job because I didn't think I would like it and because I wanted to work as a webdesigner. However my teacher came to me and said that this company will contact me. They called me and I had the job interview shortly after that and everything seemed perfect. And when they said I could come, I, of course, did so, since my best friend was hired there aswell. And after getting some routine I really like my job.. it's the perfect mixture I need. And if I ever stop working there I will apply for the same kind of job again.
I have a brother (36), a sister in-law and the cutest and most intelligent nephew in the whole world (sorry everyone.. but it's true =D). So I'm not really an only-child but pretty much feel like it, since my brother is so much older. My family really is great... and although it doesn't seem like it I really appreciate everything they did for me and everything they keep on doing for me. I definitely have a lack of selfconfidence, but nevertheless I'm pretty happy with my life at the moment.


...friends:

I do have pretty many good friends,... and some who I'd call the best in the world: Eva, Christian, Anna and Kathi.
I know Eva (IFFI) for more than 10 years now, and we have been through a lot. This whole puberty stuff made it really hard for us part of the time but the fact that we went to school together for the last two years really brought us closer together. I'll never regret that my brother married her sister, and she'll be like mine for the rest of my life (at least I do hope so *lol*).
The fact that I decided to stop going to university and visit this college was the best decision I've ever made.. and not only because the subject was much more interesting for me. If I wouldn't have gone there then I would probably never got to know Christian as much as I do now... we've been to primary school together for two years, but that was a long time ago, and I didn't know him AT ALL I would say. I don't even think we talked to each other at all. He turned out to be one of the most important people in my life. He's the same freak as I am, we think the same way and he knows what I want to say before I do so... and the other way around. And since he's the only one that enjoys PHP as much as I do.. it's nearly a MUST to connect so well. ;D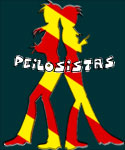 Anna.. well what should I say... Anna is probably my oldest online-friend, and all thanks to Harry Potter. I joined an online fanclub a few years back, and somehow we got to know each other through this. She's my Peilosista, and I so much hate that she's so far away from me. However we keep on talking and skyping... of course we already met in real life, and it was so awesome. We can vituperate about the same things, and that's so much fun all the time. LOVE YOUUUUUUU! *abschnubbel*
I know Kathi for quite some time aswell.. and we, aswell have been through a lot of ups and downs. We haven't been best friends forever. We spend a lot of time during the last few schoolyears together and although she has been to New Zealand a year the contact didn't break up. We work on the website for our municipality together but we often just stop working in order to talk about all the world and his brother =D.


...computers & APPLE:

I got my first computer when I

was 14. It was a Intel Celeron with 333 MHz, and 6 GB of harddisk. I LOVED it and decided to do some webdesign. You can't imagine how proud I was when my first site was finished. It of course looked AWFUL, but I loved it anyways.. and I was so convinced that it was great.. the more sites I knew the more I saw that it was just pure shit, and that I should better get going and make some better things. Ever since I always try to become a little bit better, but it seems that I'm just not too creative for that.
Since I had been in a Notebook-Class in school I had to get myself one.. which was a Fujitsu Siemens Amilo A... 40 GB HDD, 512 MB RAM, +2,6 GHz AMD Athlon... it's 4 years old now, but still works.. although it has symptoms of old age XD. My brother got me everything new for my old pc 2 years back, and now it's perfectly fast again (or at least fast enough for the things I do at the moment =D).
Ever since I saw my first Apple Macintosh, I definitely wanted to have one. Most of the people would say I'm fanatic, but I don't mind. *lol* maybe I am.. and maybe there are things better than that, and maybe I'm too narrow minded to believe it, but for me, and out of experience I say that Mac's are so much faster, and more stable than any Windows system can probably be. So my goal is to get my first Apple as soon as possible (but since I want it to be a G5 it'll take some time for me to save money *lol*). Yeah I know they are expensive, but anyway... hardly ever buy things for myself... and I don't use a lot of money on clothes or other female things so I think it's just good for me.


...anime & manga:

I few years ago I decided to get more information about Anime & Manga than just knowing Sailor Moon, and it turned out to be a really great idea *lol*. I realized that there are so much more topics that are written about, and I got really fond of it. Unfortunately since I had finals just a few months back, I totally forgot about reading Mangas or watching Animes, but I plan on starting again pretty soon. Still I don't really feel as if something was missing... that's probably because there's hardly an Anime which really blew me off my feet (like Gravitation or Fruits Basket or Hanakimi did) but anyway I don't want to stop watching, since I really enjoyed the time I spend with watching and reading. And I never give up hope that I'll find another Anime that I'll love as much as I loved those. =D


...reading:

I really like reading, but due to my finals and during my schooltime I didn't really find time to read... but now, that I work and have all my evenings and weekends off, I can do whatever I want, and that's why I started reading again. Of course Harry Potter plays a big part in my life. I love the story and everything about it. My favourite volume would be the latest (Vol. 6)... it's just so great... not "too much action" which I can't follow (I didn't get the most important part in part 5, when it actually happened so.. *lol*), and everything really interesting aswell (and so tragic *sighs*). I have no special genre I like best... I love HP and love stories, as well as criminal detective stories (if they are good of course) or thrillers. Currently I'm pretty much into thrillers (like Dan Brown's).


...driving:

I got my first car after I graduated from primary school.. it was a silver Ford Ka and I loved it a lot... But unfortunately my cutie decided to turn on the suicide switch and it started to rust. Which definitely sucked because the car was only three years old. I of course still liked my car as a "person" since we have been through a lot and it has been a good carrier for friends and myself from the day I got it... but driving was no more fun, and after thinking about it I got myself a new one... I now do owe a Mazda2 in light blue. I plan on using the car for a very long time now.. because I don't want to switch car again after a few years. I want to drive my kids to kindergarden in there *lol*.


...music:

I actually like nearly every kind of music, although my favourite at the moment is POP. I know it's totally "uncool" at the moment to like the mainstream music that comes in the radio. But I admit that I'm totally fond of it. I'm the one you could call mainstream girl. I definitely do not care from which band it is.. and I don't care if this all is so called "commerce"... I adore kitchy love songs with no critical content... but if there is I don't mind either. I would never judge anyone because of their interests in music, and I don't want to be judged by it. I don't want to be told that I have no sense for music just because I don't listen to certain styles as often as I listen to pop. This is something you can really annoy me with.


...ipod:

as I already mentioned in the computers & apple part, I'm SO MUCH addicted to everything made by apple. And that's why I wanted an ipod. My mother got me one last year for christmas.. it was a silver iPod mini 4GB... It was really cool and cute and I adored it... but ever since I saw the big one of a friend of mine, I WANTED IT... so terribly... it's so elegant and sooooooo great that I decided on selling the mini to a friend of mine, and get the bigger one. So now I'm the owner of a iPod 20 GB with color display, and it's so great. The way the harddisk works makes me think it's alive from time to time.. (and as you already know I tend to think things are alive [like my car XD]])... I still need a name for the white beauty. So everyone who considers to buy an iPod.. DO IT... it's GREAT... and really worth the money... (!!!!!!!!!!)